VISIT OF MR. PERVEZ MUSHARRAF, PRESIDENT, PAKISTAN 2002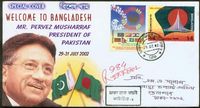 Private cover used from Dhaka M&SO commemorating visit of Mr. Pervez Musharraf, President of Pakistan.Ink jet printed cover. Quantity unknown.
30TH ANNIVERSARY OF THE 1ST POSTAGE STAMP OF BANGLADESH 2001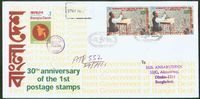 Private cover with official special postmark mailed from Dhaka GPO on 29th Jully 2001. commemorating 30th Annivbersary of the 1st postage stamp of Bangladesh. A special postmark was issued by Bangladesh post office, but no official cover was prepared. Cover showing 1Rs. value stamp from the 1st set with postmark of Mujibnagar. A pair of stamp issued on historic speech of Sk Mujibur Rahman was used to cover postage.

Total quanity approximate 800 was printed. But Majority was used on this date with our special post mark issued by Bangladesh post office.

This cover was used on this date with several combination of 1st 8 value, overprint 8v, and different stamp on personality related to Bangladesh history including different stamps on Sk Muibur Rahman.

| | | |
| --- | --- | --- |
| 1st set of 8 value used on cover. | | 8v overprint including 5 unissued stamps used on cover. |
WORLD TRADE CENTER 2001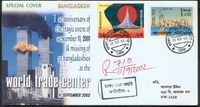 Cover on 1st anniversay of tragic event of September 11, 2001. Inkjet print out cover. Quantity not known.