Today : 07/08/2020
Fri Aug 7th, 9:50:29 UTC


| | | | | | |
| --- | --- | --- | --- | --- | --- |
| | | Bangladesh Rubberprint Stamps 1972-1974 | | | |
Written by Mosharaf Husain added date November 15th, 2003 last updated date January 14th, 2008

After Victory, on 20th December 1971 Bangladesh post office backs to their normal activities. There were lot of Pakistan postage remain in stock at different post office for use. There was a huge stock of regular stamps, especially regular stamps issued in 1961-1963, and redrawn 1963 issues as well as other commemoratives issued previously. However the stamps and quantity differ at different post office. Among these 1p to 5R were commonly used.

First 14 stamps (see stamps of NARAYANGANJ P.O) up to 90p from these series were most commonly available everywhere. Considering common postal use, regular stamps always printed in quantity. But quantity of high value regular stamps was much lower than the low denomination. As inland postage was 20p and registration 60p, there was little scope to use low values like 1p, 2p, 3p, 5p, as well as odd values like 13p, 7p in 1972. At end of 1972 registration fee increase to 80p thus make total Tk.1.- for a registered letter with minimum weight. R1.- R.1.25, R2, R5.- also found used very limited. That high value was supposed to used for overseas mails. Today it is hard to find rubber print on these high value stamps. Situation is same for the commemorative stamps.

Narayanganj P.O.
Bengali violet ink.
Wrong spelling.
Similar wrong spelling found used from other post office under Mymensingh H.O

For philatelic interest many early commemoratives and high value stamps found used on covers as well as in mint condition with rubber print. Among these many are high catalogue value. There is no reason to found these at post office but only collectors make use of these for philatelic interest. These are off course very limited in quantity. There were more than 14 denomination per post office in min condition was available but in very limited quantity as well as limited number of post offices like large post office and GPO. But a Collection of such different denomination with same type from more than 30 post office is rather uncommon and hard to find. Though those were final result of philatelic interest, but today such collection may be considered as modern classic.

These 14 stamps with type used from Naraynaganj P.O. shown to give a understanding on the types and design commonly used throughout Bangladesh during 1972-1974. Not all of these were in all post offices for use. May be there is 3 type in a post office, other 2 type in other area and at GPO or head post office there may be many of these or may be all of these for use. So It is practically impossible to collect all these 14 denomination from all post office. There are few commemoratives found used at particular post office only.

Considering low value and availability of 1p, 2p, 3p, 5p, 7p, there are many fakes and forgery on the market produced on dealerís interest.

As there was no specific design supplied by authority. Postmaster uses his own design, type. As a result many interesting types/design produces like types from KAPASIA, MANIKGANJ, KARNAKATI, BIANI BAZAR, FENI, KHARABAD, MOHESKALI, SONAIMURI, DEWANGANG, BRAHMANBARIA, TANGAIL like small /large cross below or over words wave line over words, Map of Bangladesh, Map of Bangladesh in side a circle, outer box, thick bar over word. There few example of more than one type or ink used from few post offices. Considering types. Ink colors there are positively more than 165 different. Though there is no post office document known to me, but there may be 200 different as per unofficial information. On later stage, an effort was taken to collect the rubber seal to prepare a record. But this collection does not mean all types as by this time many rube seal was melt or lost. For example postmaster himself produced Rubber seal used from KAPASIA, as he did not find any makers there. At last stage another rubber seal was produced but this found use only on private cover and mint stamps.

Dhaka Philatelic Bureau

Bilingual. Bengali one word. English one word all capital letter.


At above 2 images shown to compare difference between. The Middle image show the letter of both type close together for compare. In left image, a sign used at bottom of the letter and in right image there is no sign. Assuming the type at left was used at early stage.

Violet Ink
Violet Ink
Black Ink
Black Ink
Violet Ink
The types in top row was first used later replaced by 2nd type.

At beginning all most every one use rubber seal on stamps as well as stamps with rubber seal supplied by large post office to small post office. In some case hand rubber seal was applied after affixing stamps. Later it was found many covers bearing stamps of Pakistan without any rubber print.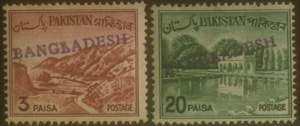 Dhaka GPO Common type English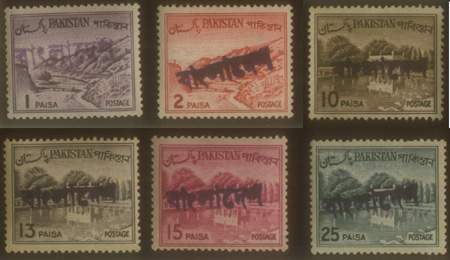 Dhaka GPO Common type Bengali



Dhaka GPO Night

Dhaka Sadar P.O
Bilingual One Word. A line between country name Violet Ink
Dhaka Sadar P.O
English Bilingual 2 Word All capital letter